Changan pickup fire truck

Changan pickup fire truck , US $15000.00-US $20000.00 / Set
dongfeng pickup fire truck , US $15000.00-US $21000.00 / Set
Nissan pickup fire truck ,US $26000.00-US $32000.00 / Set
ISUZU pickup fire truck ,US $18800.00-US $24000.00 / Set
JMC pickup fire truck ,US $16900.00-US $23600.00 / Set
Foton pickup fire truck ,US $16900.00-US $23500.00 / Set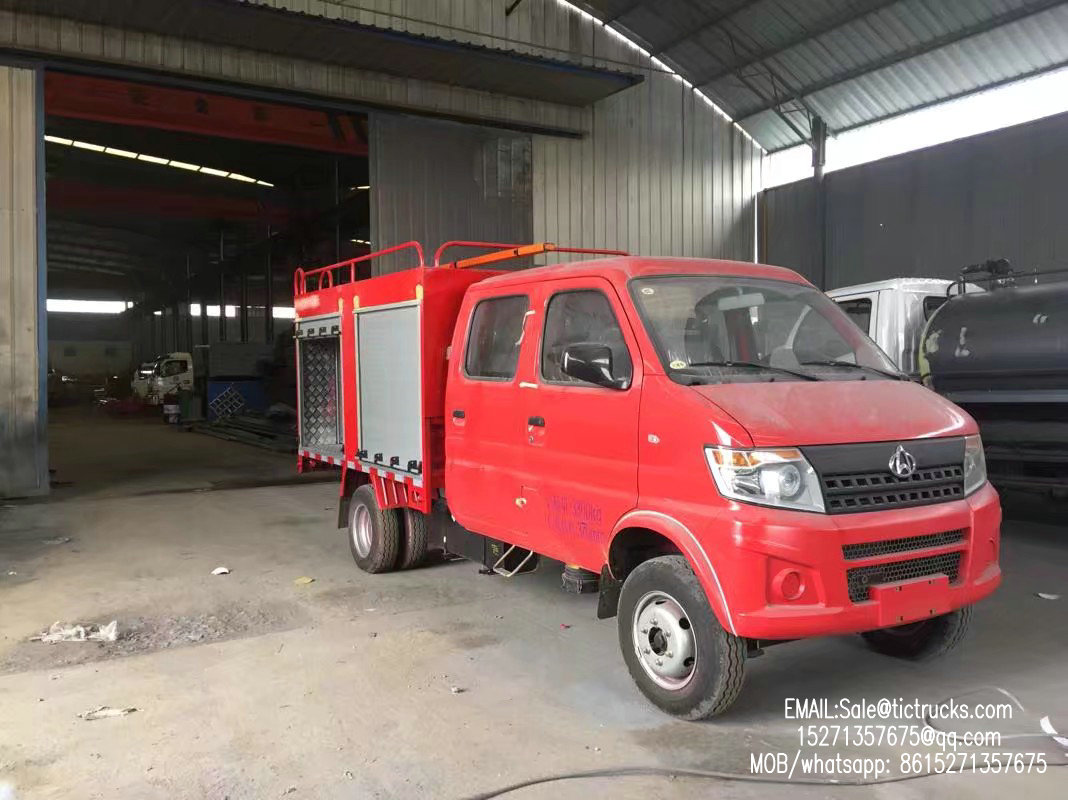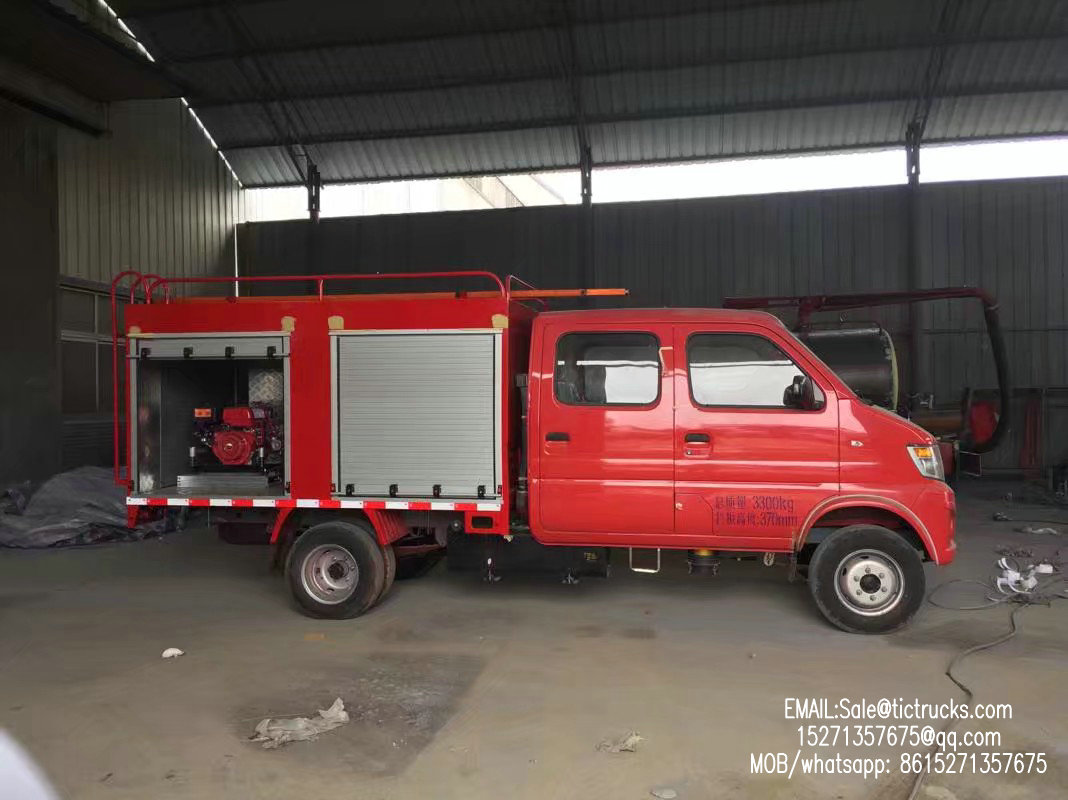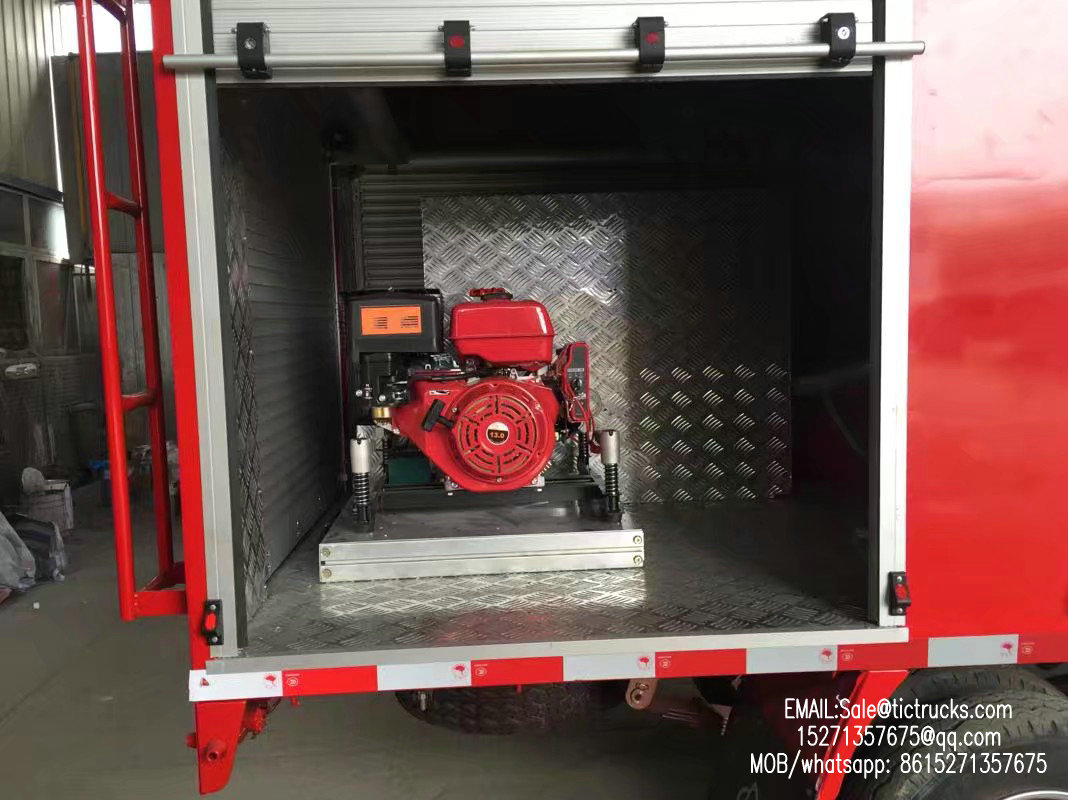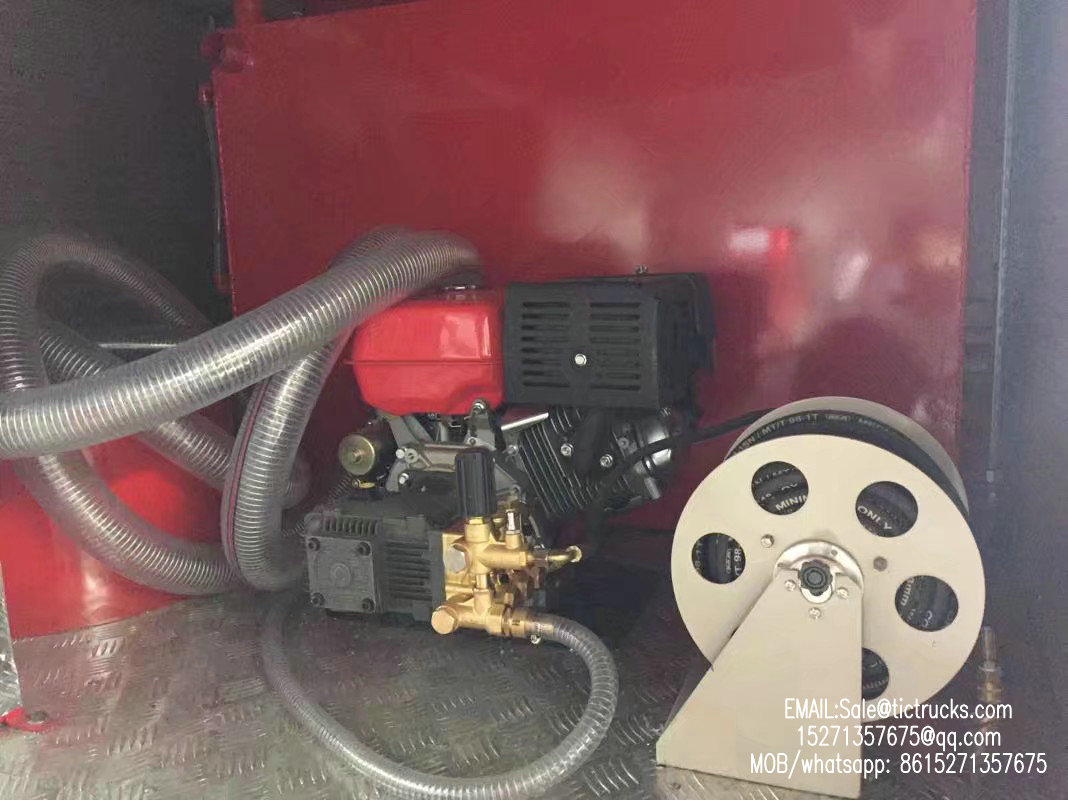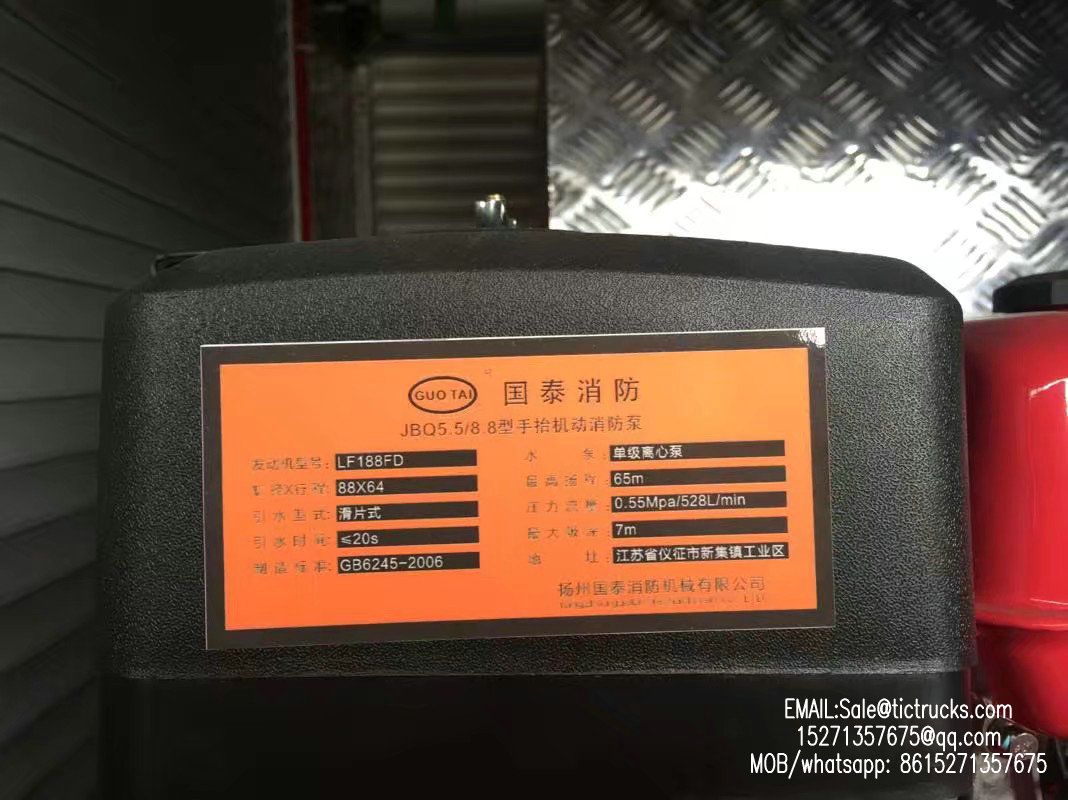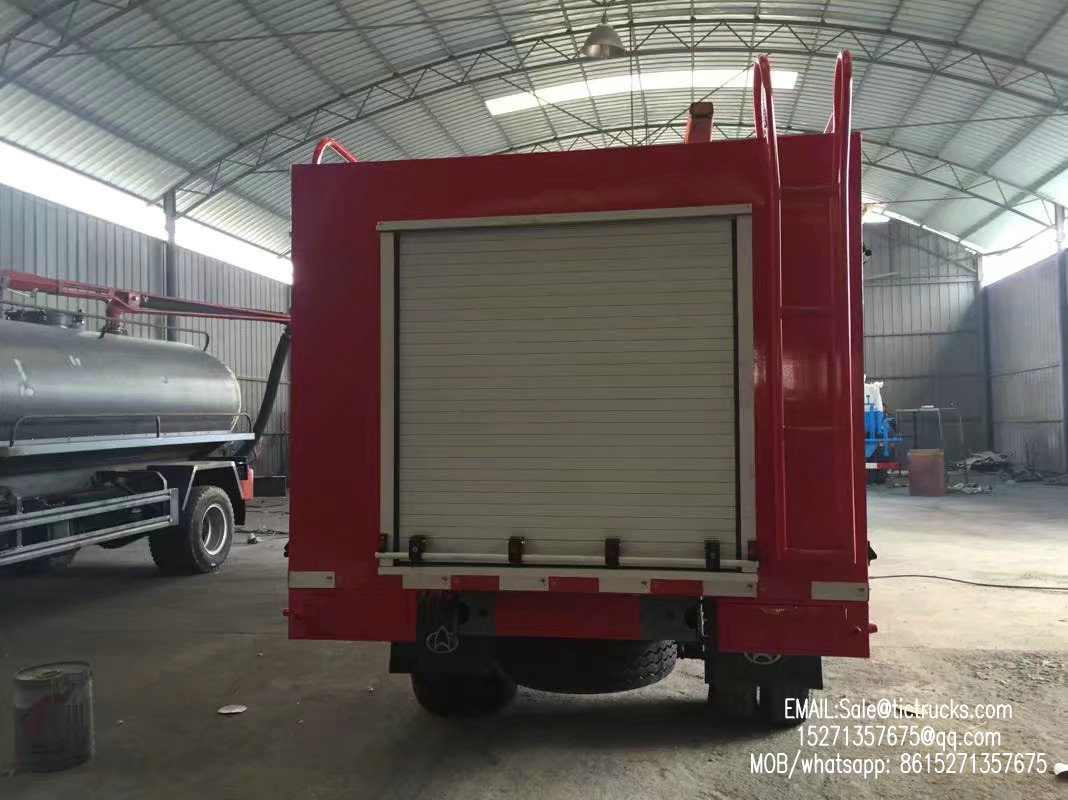 Specification of Nissan Pickup Water Fire Truck With Fire Pump 1000Liters:
Brand

NISSAN

Drive type

4x2

Total mass

2550kg

Water tank capacity

600Liter(0.6m3)

Curb weight

1475kg

Overall dimension

4980x1690x1650mm

Wheel base

2950mm

F/R axle load

875/1675kg

Quantity of leaf spring

-/4

Quantity of tires

4

Tyre type

LT215/75R15

Max.vehicle speed

155km/h

Passengers in cabin

2+3

Chassis model

ZN1033U2G4J

Engine

Model

KA24

Max.power

110kw/150HP

Displacement

2400ml

Emission level

Euro 3

Fuel type

Gasoline

Gearbox

Description

Manual,5 forward gears 1 reverse gear

Brake

Service brake

Double circuit pneumatic (air) brake

system

Parking brake

Spring-Power drum brake

Electric system

Operating voltage

24V negative grounded

Starter

24V,5.4KW

Alternator

28V,1.5KW

Battery voltage

2X12V/165Ah

Cabin

Description

Double rows, 4 doors,sedan configuration,

power steering, A/C provided

Special equipment

Fire pump

HONDA GX390

Work pressure

0.6MPa

Flux

60m /h

Fire range

65m

Max.suction depth

7m

Time of sucking water

5s

Diameter of inlet

65mm

Diameter of outlet

65mm
The capacity of tank body from: 500Litres to 2,000Litres at our factory for your choice.
1. tank body is adopted an advanced automatic CNC vertical welding techniques and head arc butt welding technology, as well as the whole- steel forming a composite
water sprinkler, Fire Fighting Water Truck is also named Water Tanker truck, water sprinkler truck, Pesticide spraying Truck, water fire truck, Multifunction water truck, water spray vehicle
The water sprinkler is suit to spray wash all kinds of road, trees, Lawn green, Building construction, high speed road.
With multifunction, spray, anti-dust, high-low level spray, Pesticide spraying, Fire Water, Guardrail The water truck also can transport water, drinking water, discharge water and emergency fire function.
There is duckbill Nozzle or round Nozzle installing in the front of truck,
cylinder-shaped nozzle or shower shape Nozzle installing the rear of water truck, rear walk platform at rear of truck, there is water monitor installing at the walk platform.
Install Fire Pump and Fire Monitor
JMC Pickup Water Mist Fire Fighting Truck
Fire Truck Engine Model JX493ZLQ4F ,72kw ,97HP,2771CC
JMC Fire Truck manufacturer , JMC Fire Truck quality
1. efficient fire: the introduction of efficient water mist system the latest technology, the double pipe, spray guns fire, high efficiency, large area fire. Evaluation room, without double counting cases, a liter of water can cover an area of about 100 square meters. Water consumption is 1% of the water consumption of the traditional, water-saving environmental protection, non-toxic and harmless. To minimize water loss of property have a significant effect.
2.Rapid handy: car through highly into a large fire with difficult access roads, streets alleys, narrow residential, country lanes, the first time to reach the leading edge of the fire, the first time to start fire fighting and rescue, the first time control fire.
| | | | |
| --- | --- | --- | --- |
| Vehicle Name: | JMC Fire Truck | Vehicle Category: | JMC Fire Truck |
| Chinese Brand: | JMC Fire Truck | English brand : | JMC Fire Truck |
| Notice batch : | 264 | Exemption: | No |
| Engine | Engine Manufacturer | Displacement (ml) | Power (kw) |
| JX493ZLQ4F | Jiangling Motors Corporation, Ltd. | 2771 | 72 |
| Engine brand : | JMC | Fuel type: | Diesel (mm) |
| Dimensions: | 4990x1850x1755(mm) | Compartment Size : | × × (mm) |
| The total mass : | 2390(Kg) | Payload: | 0 |
| Curb weight: | 1780(Kg) | Rated Quality: | 235(Kg) |
| Quality Trailer : | (kg) | Semitrailer saddle : | |
| Rated capacity : | ( People ) | Cab seats : | 2+3( People ) |
| Approach / departure angle : | 29/17(°) | Front / rear overhang : | 795/1170(mm) |
| Axle load: | 7200/12450 | Wheelbase: | 3025(mm) |
| Number of axes: | 2 | Maximum speed: | 120(km/h) |
| Fuel consumption: | | Spring: | -/6 |
| Number of tires : | 4 | Tire Size: | 215/75R15 |
| Front track: | 1445 | Rear track: | 1425 |
| Brake Front: | | After braking : | |
| Built before the parade : | | After operating system : | |
| Steering Type : | Steering wheel | Starting method: | |

other pikup fire truck :dongfeng pickup fire truck , Nissan pickup fire truck ,ISUZU pickup fire truck ,