Sinotruk HOWO 4x2 10cbm LPG Bobtail Truck for Cooking Gas Cylinder Refilling
Views:1732 Author:Dong Runze Special Vehicle Publish Time: 2017-05-03 Origin:Dong Runze Special Vehicle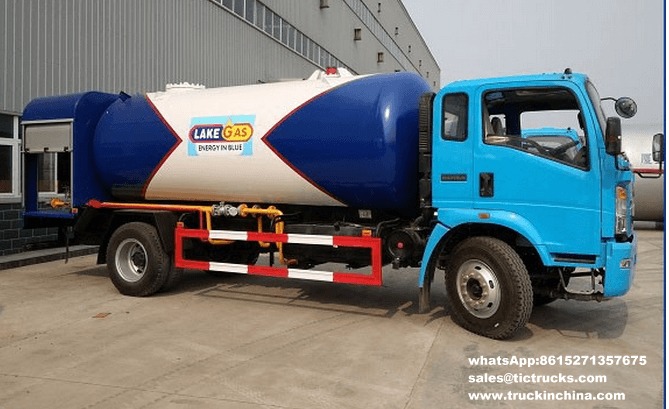 HOWO LPG bobtail truck LPG filling cylinder truck for sale
US $36,888-41,088 / Set
LPG Bobtail Truck LPG Truck with Dispenser :(For reference)

Chassis Specification

Item No.

Parameters

Overall Dimension

8000x2500x3500 mm

Gross Vehicle Weight

14100kg

Curb Weight

8757kg

Loading Weight

4200 Kg

Wheel Base

4500 mm

Front/rear Overhang

1245/2287mm

Approach/Departure Angle

25/14 degree

Engine

YuChai 160HP Diesel Engine, Four Stroke,6 Cylinder in line.

Engine horsepower

160 HP Euro III

Displacement

5.9 L(Diesel)

Max Driving Speed

90 km/h

Gear Box

Dongfeng Brand, 6 Forward Gear, 1 Backward Gear

Cabin

Left Hand Driving, 3 Passengers Allowed

Tire

9.00-20(7 pieces)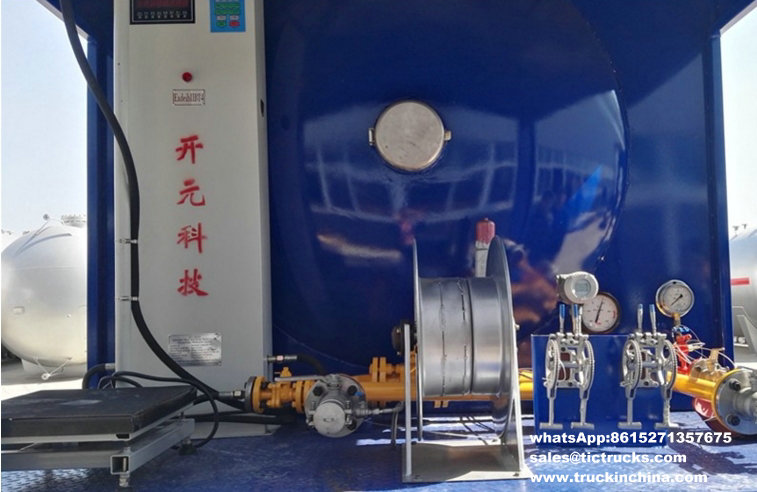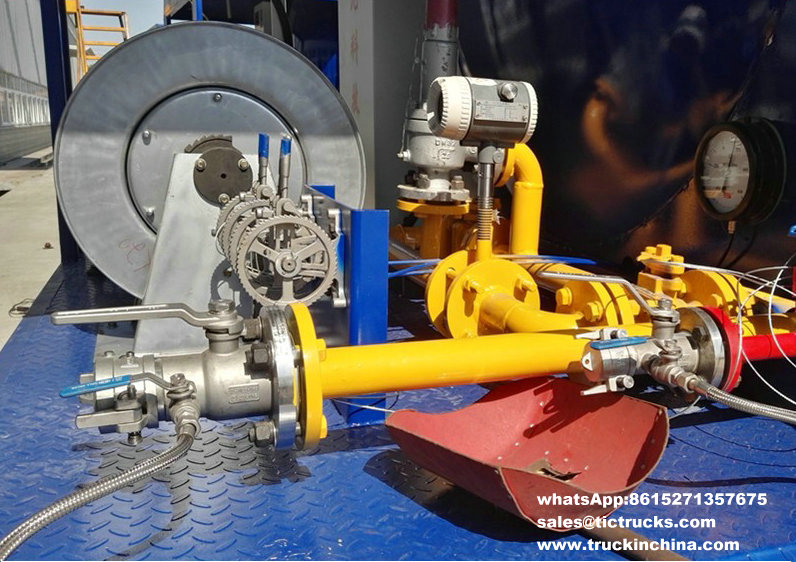 SINO TRUK HOWO 4*2 RHD lpg gas tank truck with digital scale for African client.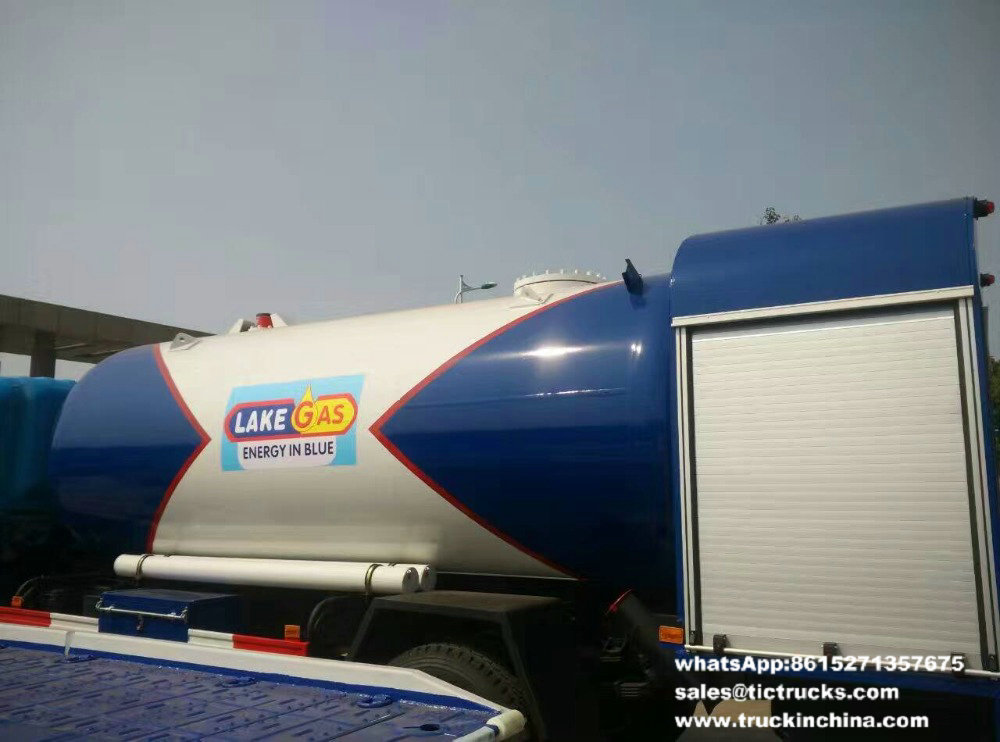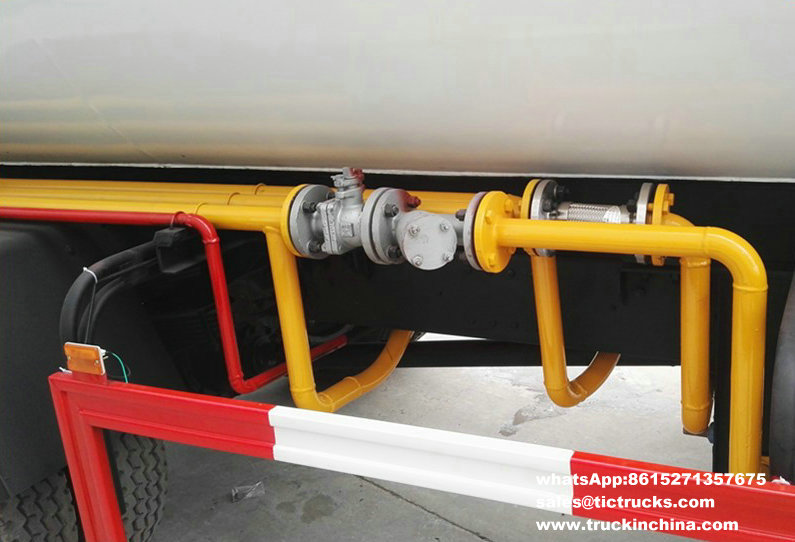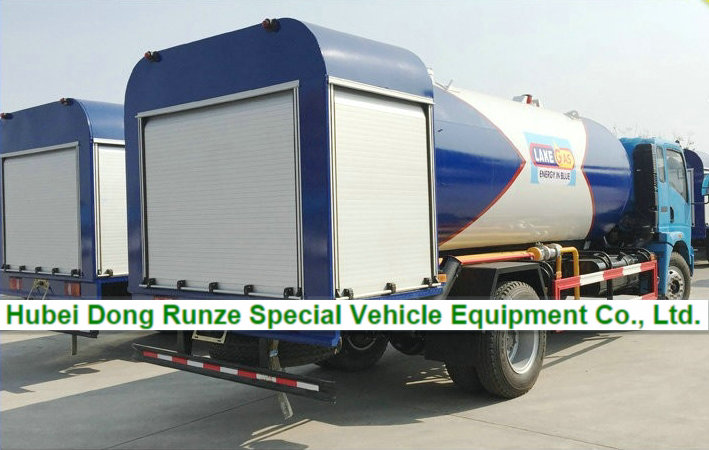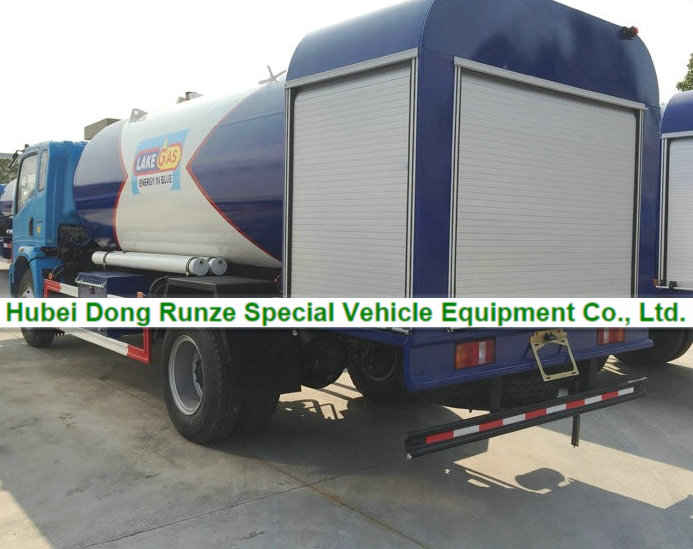 SINO TRUK HOWO Brand 4*2 LHD/RHD 10m3 lpg gas bobtail truck with electronic scale for sale LPG gas bobtail vehicle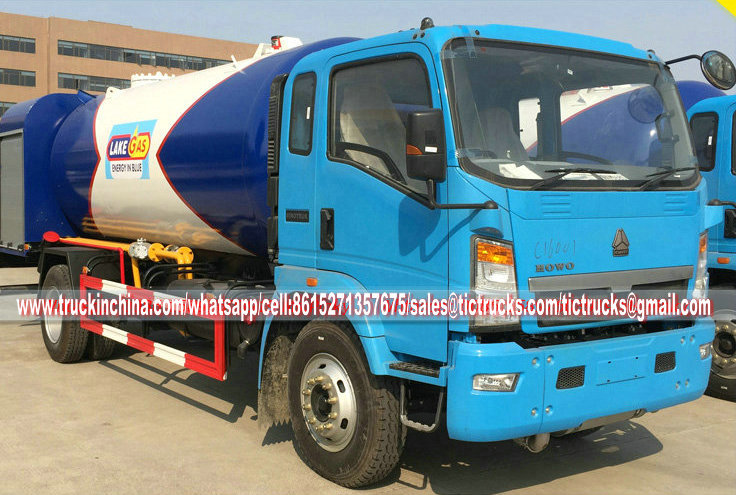 lpg gas truck with digital scale for sale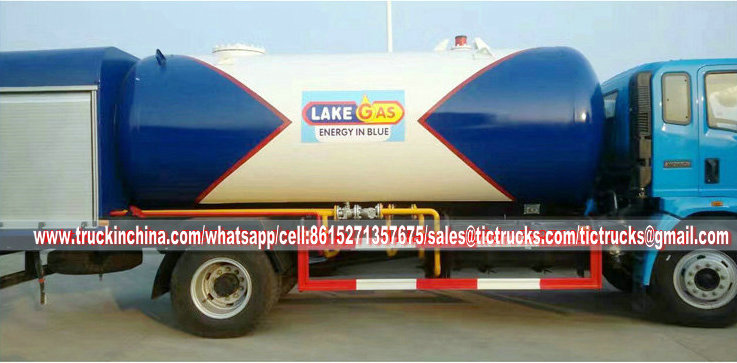 Tanker & Filling system Specification

Item No.

10 CBM (10,000L)

Tank Capacity

Liquefied Petroleum Gas (Propane)

Filling Content

Q345R high tension steel, 8mm Thick Tank Body.

Standard Equipment

Safety Valve, Liquid Level Gauge, Pressure Gauge, Thermometer, Emergency Shut-off Valve, Tool Boxes,AntistaticGroundingTape. 1 Filling Machine, 1 Filling Gun with Black Rubber Tube.

Specification

Designed Pressure: 1.66Mpa

Filling Ratio: 0.42 kg/L

Working Temperature: under 50 centigrade

Corrosion Allowance: 1mm
LPG Mobile Truck Dispenser 5Tons LPG Bobtail Truck for Cooking Gas Cylinder Refilling 12000Liters for Door to Door LPG Gas Cylinders
Mobile LPG Cylinder Refilling Trucks with 12000Liters 5Tons LPG Gas Tanker, LPG Filling Machine with Tickert Printer ( including volume, unit price, amount, date), LPG Pump, Level Meter, different valves(including safe valves, Cut-off Valves and the size valves for safe and automatic refilling LPG Gas to LPG Cylinders) for Cooking Gas, temperature meter, pressure meter.
LPG Gas Tanker Truck with 120HP Diesel Engine, 4Cylinders, 7.50R16 Tire, With Aire Condition.
Sinotruk Light LPG Mobile Truck Dispenser, new design. good performance. best price.
1. LPG Mobile Truck Dispenser also can be design for :
1. Cooking Gas LPG Cylinders ( Bottling)
2. Cars taxi
3. Forklifts
3. Dual Fuel Trucks
4. Buses
5. Marine Boats
6. other industrail and commercial Vehicles.
gasoline skid tank with automatic dispensing, For refilling ofcooking gas
mobile domestic lpg gas dispensing truck for sale
2. Photos of Dongfeng LPG Tanker 10cbm Truck LPG Bobtail Truck LPG Truck with Dispenser :(For reference)
SINO TRUK HOWO 4*2 10m3 160hp diesel LPG gas bobtail vehicle for sale

3. the Specification of LPG Mobile Truck Dispenser 5Tons LPG Bobtail Truck for Cooking Gas Cylinder Refilling:
12000Liters (6 tons) LPG bobtail

Item No.
Parameters

Overall Dimension

8450x2500x3500mm

Drive model

4x2, new condition , RHD, or LHD

Gross Vehicle Weight

14900kg

Curb Weight

8700 kg

Loading Weight

6200 Kg

Wheel Base

4700 mm

Front/rear Overhang

1240/2460 mm

Front/rear Tread

1515/1495 mm

Approach/Departure Angle

16/13 degree

Engine
Yuchai Engine, YC4E160-33, Diesel Engine, Four Stroke,

4 Cylinder in line.

Engine horsepower

160 HP Euro 3,China Yuchai engine

Displacement

4.257 L(Diesel)

Full loading Fuel
Consumption Rate

200G/KW.H

Max Driving Speed

90 km/h

Gear Box

DC6J65TC, 6 Forward Gear, 1 Backward Gear

Cabin

Right Hand Driving, 3 Passengers Allowed

Tire

9.00R20, 6 pieces with 1 spare tire.

Tank Capacity
12,000 Liters 6 TONS

Filling Content

Liquefied Petroleum Gas (Propane)

Tank Material

Q345R high tension steel, 8mm Thick Tank Body.

Standard Equipment

1 .Emergency Cut-off Valve, Safety Valve, Ball Valve, Liquid level meter, Pressure gauge, Temperature Gauge, 2 Valve Boxes in both sides.Anti-static Grounding Tape.
2. Famous brand Pump, Filling gun and flow-meter

Specification

Designed Pressure: 1.66Mpa
Liquid Density: 500-590 kg/m3
Working Temperature: under 50 centi-degree
Corrosion Allowance: 1mm