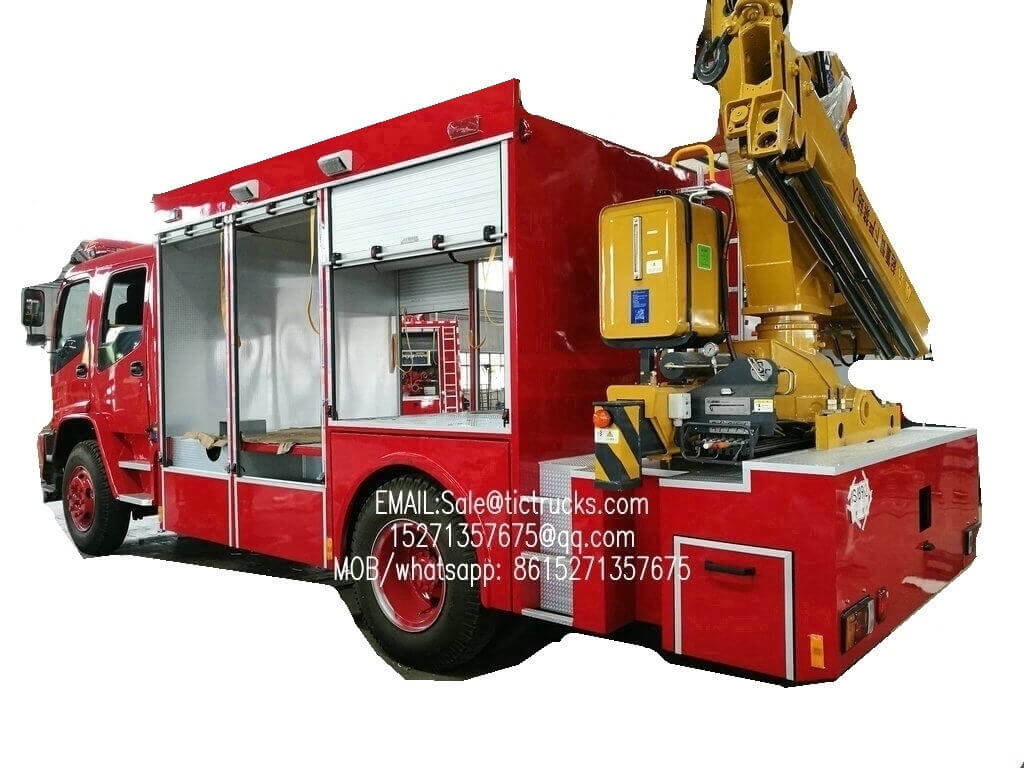 ISUZU Rescue fire truck Technical specifications
Product Name

Emergency Rescue Fire Truck

Vehicle Brand Series

ISUZU

Vehicle Model

DRZ5121TXFJY80

Chassis parameters

Overall dimensions

mm

8535*2480*3580

Gross weight

kg

12355

Curb weight

11905

Rated payload




Suspension F/R

mm

1335/2310

Wheel base

4500

Driving type

4*2

Chiassis model

QL1160AMFRY

Number of axles

2

Tire specification

10.00-20-16PR,10.00R20-16PR,11.00R20-16PR

Number of Tires

6+1

Passengers in cab

3+4

Engine

Engine model

6HK1-TCNG40

Type of fuel

Diesel

Displacement/power

ml

7790/177KW

Max speed

Km/h

95

Emission standard(TAS)

EURO 3,4

Fire performance

The generator

SHT115000

Lifting lamp

YZH4-5.7CA

Traction winch

N12000XF

crane

SQ5ZK2 XCMG

PTO model

HQ50
1,ISUZU Chassis FVR QL1160AMFRY, 240HP,double cabin
| | |
| --- | --- |
| Chassis Model | QL1160AMFRY |
| Engine Model /Max Power | 6HK1--TCNG40.178kw |
| Overall Size(mm) | 8310 x 2480 x 3480 |
| Gross Weight(kg) | 13100 |
| Cab | withSpecial Hydraulic Tilting Mechanism Original, Double-cab,Integrated Welding Structure; |
| Number Of Seats | 2+4 |
| Max Speed(km/h) | 95 |
| Wheelbase(mm) | 4500 |
| Generator | HONDA Generators, Power 10.5kw HONDA 10.5KW generator, |
| Lighting Lamp | Illuminative Lights 4*1000W Lighting Lamp |
| Crane | XCMG SQ5ZK2, 5T crane |
| Winch Traction (kg) | Front Champion Power Winch N16800XF,≥7000kg |
| Driving Type | 4x2 |
| Max Torque | 745/1500 |
| Other | Equipped with various cleansing and rescue equipment. other fire equipment can be installed as customers' requirement. |
Seating settings:2+4 people. Features air respirator cage behind the rear passenger seat 4, and equipped with shock protection device about 1.2 metres height of Office have elaborate safety railing.
To: hydraulic turnover mechanism.
Laboratory equipment for the crew: In addition to the original vehicle equipment, plus a100W sirens, revolving lights switch, PTO switch, possessed light switches and indicator lights, radio power cord.
Police Lamp: top cab equipped with long rows of flashing police lights .
2, Equipment boxes
Material: Bulk skeleton made of high quality steel welded together, interior wall panels are 1.5mm oxide aluminum tread plate.
Structure: Skeleton using special profiles for aluminum frame and connectors connecting structure, can maximize space utilization and the variability of internal equipment frame using aluminum structures, can be configured according to user requirements of various types of sliding tray, slide, drawer. The structure of science, equipment and storing, the layout is compact, is reasonable, in line with ergonomic principles, the space utilization ratio is over 85%.
Shutter: All equipment compartments used shutter door with lock, handles and locks sturdy and durable, not deformation, is a water proof performance test.
Skirting boards: Steel frame covered with plastic aluminum diamond plate, gas springs and special section steel reached the double lock, safe and reliable.
3, lifting the lighting system:
l Generator: EH3160 Honda
Power: 1 0.5kW
Frequency: 50HZ
Voltage: 220/380V
l Lighting:
Power: 4×1000W
l Moving lights: 2×500W
l Lifter:
Type: Pneumatic
Maximum height from the ground: ≥7.5m
Pitch: -90°~+90°
Horizontal rotation: 360°
Voltage: 220V
l Distribution boxes: A feature control key, meter, all kinds of operations are focused on the control box, and can run fast and accurate control of all movements, 5M wire press.
4, traction winch system: (US title)
Model: N16800XF
Drive type: Electric
Single rope Max traction force: ≥7000kg
Wire rope diameter: 13mm
Rope length: 48m
5, foldable car crane systems:SQ5ZK2 xcmg crane
| | | |
| --- | --- | --- |
| project | SQ5ZK2 | - |
| Maximum weight | 5000 | (kg) |
| Maximum lifting torque | 10.5 | (T.M) |
| Turning angle | 370° | (°) |
| Lifting capacity | 5000/2.1 2400/4.44 1600/6.2 1050/8.01 | (kg/m) |
6、 Additional Electrical System
l Vehicle total power of all electrical equipment below the rated power of the generator 1.4 times;
l Licence holders together with the provisions of GB4785 to meet the typesetting required a licence;
l Top cab front end to a long row of lights and sirens power was 100W, sirens, police lights, strobe lights circuit for independent additional circuits, controller installed inside the cab.
l Above the body sides with 3 strobe lamp, installed security lights at the bottom and side retro-reflector (composite type), equipped with front and back outline marker lamps on each side of a turn signal, in the crew room, storage compartment, are equipped with lights, and in accordance with the provisions of GB4785.
l Top left and right sides of the car to install the two possessed work lights
l Roof with the Department after 1 round red lights and 1 24V, 60W, Omni-directional lights.
l Vehicle equipped with inflatable, charging device.
l Side and rear sets reflective film, and in accordance with the provisions of GB7258
7, painting:
Made of high quality paint, body, RIM the inner ring for the big red (fire red), rim of the outer ring, the front bumper is white, screen door for aluminum anodized color.
8, truck equipment and layout
Fire fighting equipment: equipped with table
Equipment layout:
l Human engineering principle and design of equipment carriers
l By using logic, equipment weight and shape and frequently used placing equipment
l Design according to fight into the ring and fighting equipment integration
l Standing on the ground or the pedal 1-2 access to equipment, to ensure that the fighting expanded player non interference
Category optional list

ITEM

Name

UNTIS

quantity

Add price

Detective CLASS

1

Toxic Gas Detector

UNIT

2




2

Military Prosecution and instrument agents

UNIT

1




3

Toxic Gas Detector

UNIT

3




4

Water Quality Analyzers

UNIT

1




5

Electronic weather instrument

UNIT

1




6

Audio Life Detector

UNIT

1




7

Video life detector

UNIT

1




8

Thermal Imager

UNIT

1




9

Leakage Detector

UNIT

1




10

Nuclear radiation detectors

UNIT

1




11

Electronic pH tester

UNIT

1




12

Thermometer

UNIT

2




13

Prosecution and biological fast mobile device

UNIT

1




Plugging class

14

Bags within sealed plugging

UNIT

1




15

Encapsulating plugging bags

UNIT

1




16

Bundled plugging bags

UNIT

1




17

Metal plugging casing

UNIT

1




18

Plugging gun

UNIT

1




19

Valve plugging Toolbox

UNIT

1




20

Injection plugging tool

UNIT

1




21

Paste plugging tool

UNIT

1




22

Electromagnetic plugging tool

UNIT

1




23

Plugging wooden wedge

UNIT

1




24

Sewer choke bags

UNIT

3




25

Pneumatic sucker plugging

UNIT

1




26

Pipeline adhesive


UNIT

1




Transmission and transfer class

27

Sewage bags

UNIT

2




28

Manual diaphragm suction pump

UNIT

1




29

Explosion-proof water wheel drive transmission and transfer pumps

UNIT

1




30

Hazardous liquid suction pump

UNIT

1




31

Sewage pumps

UNIT

1




32

Sealed barrels of toxic substances

UNIT

1




33

Booms

UNIT

1




34

Suction pads

UNIT

2




Decontamination Class

35

Acid, caustic canceller

UNIT

1




36

Acid, alkali Diminshing device

UNIT

1




37

Electric charge, exhaust pump

UNIT

1




38

Decontamination supply pump

UNIT

1




39

Decontamination sewage pump

UNIT

1




40

Decontamination Water Heaters

UNIT

1




41

Warm air generator

UNIT

1




42

Temperature Controller

UNIT

1




43

Decontamination showers

UNIT

1




44

Decontamination liquid are mixed tank

UNIT

1




45

Decontamination wastewater recycling bags

UNIT

2




46

Single decontamination tent

UNIT

1




47

Enclosed public decontamination tent

UNIT

1




48

Mobile high-pressure decontamination pump (with gun)

UNIT

1




49

Decontamination spray gun

UNIT

1




50

Biochemical bacterial decontamination device (agent)

UNIT

1




51

Decontamination powder

UNIT


5




Rescue class

52

Electric cutting pliers

UNIT

1




53

Pneumatic cutter

UNIT

1




54

Manual cutting pliers

UNIT

1




55

Portable Universal cutters

UNIT

1




56

Different wheel-cut saws

UNIT

1




57

Motor (gasoline engine) Chain Saw

UNIT

1




58

Toothless saw

UNIT

1




59

Dual hydraulic clamp

UNIT

1




60

Hydraulic spreader

UNIT

1




61

Hydraulic struts

UNIT

1




62

Heavy support sheath

UNIT

1




63

Motorized pump

UNIT

2




64

Door Openers

UNIT

1




65

Iron collars

UNIT

1




66

Fire ax

UNIT

4




67

Fire Hook

UNIT

2




68

Plasma Cutter

UNIT

1




69

Hydraulic percussion drill

UNIT

1




70

Drills

UNIT

1




71

Non-sparking tools

UNIT

1




72

Manual Crusher

UNIT

1




73

Handheld reinforced speed breaker

UNIT

1




Protection class

74

Heavy chemical warfare suits

UNIT

4




75

Lightweight Chemical protective clothing

UNIT

6




76

Fire chemical warfare suits

UNIT

6




77

Anti-high temperature gloves

UNIT

6




78

Electrically insulated gloves

UNIT

6




79

Chemical protective gloves

UNIT

12




80

Gas masks

UNIT

12




81

Chemical protective safety boots

UNIT

4




82

Fire helmet

UNIT

6




83

SCBA

UNIT

6




84

Spare cylinders

UNIT

6




85

Eyewash

UNIT

4




86

Eyewash machine

UNIT

1




87

Cable reels230V/50m

UNIT

1




88

Riot cable reels400V/50m

UNIT

1




89

Portable generators8.5Kw

UNIT

1




90

Lifting light

UNIT

1