Folding Gooseneck Lowboy Trailer Features
Views:1438 Author:Dong Runze Special Vehicle Publish Time: 2017-10-17 Origin:Dong Runze Special Vehicle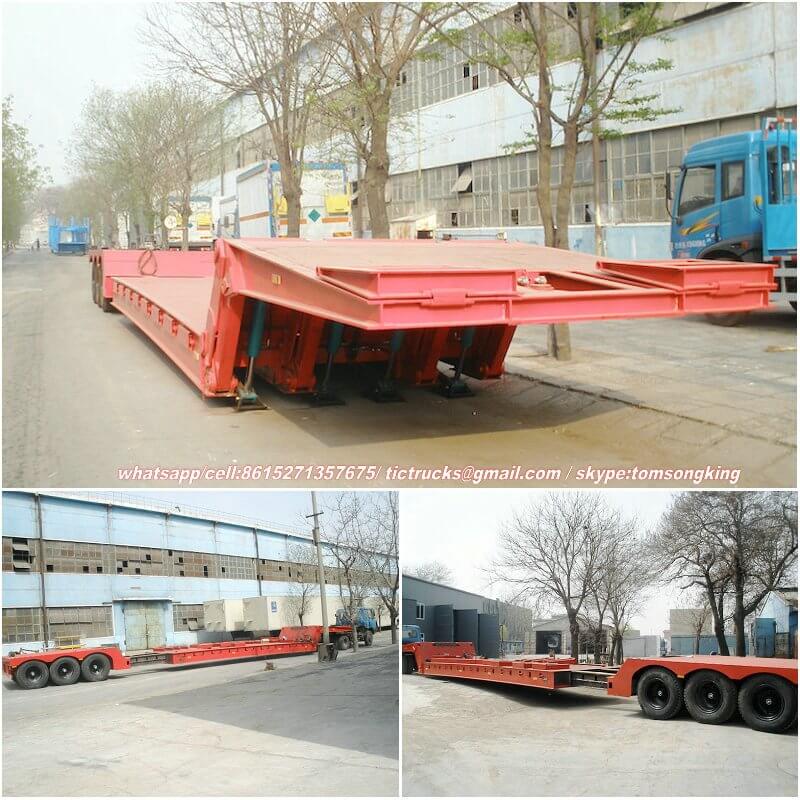 Folding Gooseneck Lowboy Trailer Features
specification
Name: 3 axle folding gooseneck lowboy trailer

Payload: 70 tons, 30 tons after extension

Overall dimension: 17000*3000*1750 (before extension)

Useful deck length: 9000mm

Axle: 20T*3 (FUWA, Anqiao, Man, York or BPW)

Hydraulic gooseneck: folding type, 4 cylinders, the gooseneck can lay on ground

Tires: 12R24, 12 tires + 1 spare tire (triangle, Chaoyang or Double coin)

Frame: Q550 high tension steel

Kingpin: 2'' Kingpin JOST

Landing gear: Double speed JOST

Power: Honda Gasoline engine, or Kubota.

Spare tire carrier: 1~2

Brake system: Wabco Dual line pneumatic brake line

Electrical system: 12/24V, 7 socket (US, EU or Australian standard)

Accessories: Tool box, D-rings, Stake pocket, container twist locks, etc.

Light: Tail lamp, side lamp, brake lamp, etc. All LED type.

Surface process: Sandblasted

Painting: Base coating + Surface painting
The folding gooseneck trailer has a special hydraulic system in the gooseneck, which can sleep on the ground completely, enabling vehicles to load from the front. The hydraulic power can be a separate diesel / gasoline engine, or powered by PTO from the mover. It's very useful in heavy duty vehicle transportation, such as military force, air port service vehicle, etc. The trailer can be designed as extendable ones, both in terms of length and width. The axles can be fixed type or modular type with steering function during operation, dolly is sometimes used to make the long trailer steering more easily.
Folding Gooseneck Lowboy Trailer Features
Hydraulic gooseneck which can sleep on the ground

Powered from diesel / gasoline engine, or from PTO

Fixed axle or steering axle, dolly optional

Fixed length or extendale length
Shipment option
The same as common low loader trailer, the total cubage is not big. It will be more wise to ship to folding gooseneck lowboy trailer completely. Unless road transportation is avaible.
Folding Gooseneck Trailers. • Gooseneck lowers to form loading ramp. • Hydraulic or winch operated. • Standard or special designs available from 35 to 50 tons. 2, 3 and 4 axle configurations. • Stable loading and unloading. • Apitong decking and 100,000 PSI steel construction.
Fixed Gooseneck Trailers. Standard models available in capacities from 35 to 50 tons. Custom built models up to 100 tons. • Full width Apitong Decking • Concentrated load in 16' Rear Loading Paver Special Trailers. Specially designed for moving rollers and pavers. • Fast and easy hydraulic bi-fold ramps. • Carry roller, paver and broom in one trip. • Low rear ramp climb angle. • Full width gooseneck with 3 to 1 slope accomodates most rollers.
Hydraulic Folding Tail Trailers. • Available in 35 ton and 50 ton capacities with 2 or 3 axles. • Outside hydraulic controls for easy operation • Full width gooseneck • Load carrying rear ramp for loading from ground or dock
Hydraulic removable gooseneck trailers Special Configurations. Specially designed trailers up to 100 tons.