Detachable Gooseneck Lowboy Trailer Features
Views:1470 Author:Dong Runze Special Vehicle Publish Time: 2017-10-17 Origin:Dong Runze Special Vehicle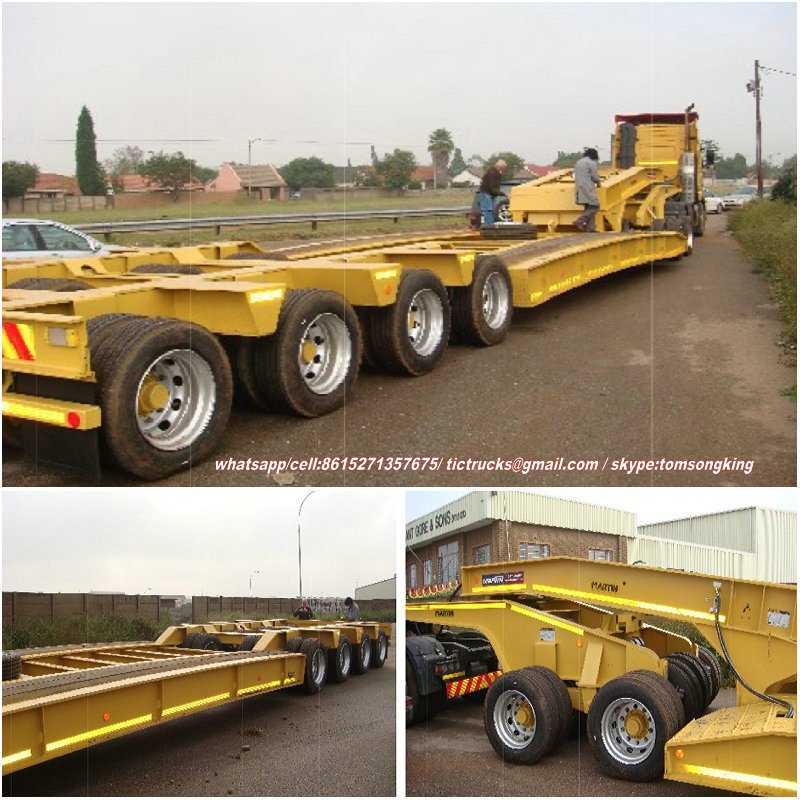 Detachable Gooseneck Lowboy Trailer
US $46200-88800
specification
Name: 4 axles, 8axles hydraulic detachable gooseneck lowboy trailer

Loading capacity: 120 ton,240ton

Overall dimension: 15000*4000*1500

Gooseneck: detachable gooseneck driven by hydraulic

Power: By PTO or by seperated diesel engine

Axle: 20T*4 , 30T*4, 40T*4 , 40T*4 ,

air bag suspension optional

tandem bogie axle optional

Bogie type Detachable Gooseneck lowboy trailer


20T*6 , 30T*4 40T*6 , 40T*6,

tridem tandem axle

optional with hydraulic suspension and hydraulic steering function

Tires: 275/70R22.5, 295/80R22.5, 315/80R22.5

4 axles LOW BED TRAILERS with 1 axle dolly trailer Hankook tires16+4 +4pieces 315/80R22.5

4 axles LOW BED TRAILERS with 2 axle dolly trailer Hankook tires 8+2 pcs 295/80R22.5 / ,16 +2 piece s 315/80R22.5

16 tires + 1 Spare tire; optional 32 tires + 2 Spare tire;

Frame: Q550 high tension steel

Kingpin: 2'' JOST Kingpin




Spare tire carrier: 1~2

Brake system: Wabco dual line pneumatic brake line

Accessories: whole set of standard tools and tool box

Light: Tail lamp, side lamp, brake lamp, etc, all LED

Surface: sandblasted

Painting: base coating + Surface painting

Electrical system: 12/24V, 7 socket (US, EU or Australian standard)
The detachable gooseneck lowboy trailer, that can also be called as modular trailer, adopts a pair of hydraulic cylinder at the front gooseneck, which can be separate from the trailer deck. The vehicle to load will enter the low deck from the front. It's normally used in heavy duty vehicle transporation. The axle normally adopts modular axle with hydraulic suspension and hydraulic steering. A dolly is normally used simultaneously to faciliate the trailer steering, as well as sharing the heavy load. Designed payload for this trailer is relatively higher than other type of low loader. It's widely used in construction sites, mining area, port opertaion, etc. The advanced loading solution makes the trailer has longer life span than those lowboy trailers with ramps at the rear.
Detachable Gooseneck Lowboy Trailer Features
Gooseneck separate from the deck

Hydraulic cylinder for gooseneck lifting

Hydraulic suspension and hydraulic steering

A dolly as option.
75-150ton hydraulic-neck tridem-axle lowbed trailer
75-120ton hydraulic-neck tridem-axle perimeter deck trailer
55-100ton removable gooseneck tridem-axle low-bed trailer
60-110ton hydraulic-neck tridem-axle low-bed trailer
55-120ton fixed-neck single-drop tridem-axle low-bed trailer
51-150ton low-bed trailer
Roll-off & ISO 20'/40' container trailer
6-axle rear steering dolly
Removable Gooseneck Lowboy Trailer heavy transport Mine dumper