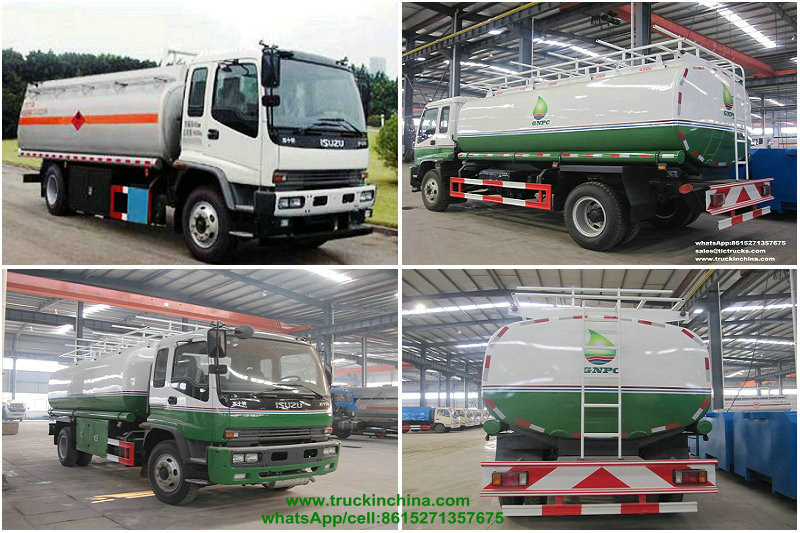 DRZ5160GYYQ ISUZU FVR Refuelling Truck 18000L for sale
carbon steel Unit Price: USD51600.00 - 54600.00 / Set
Stainless steel /Aluminium alloy Unit Price: USD 63600.00 - 68600.00 / Set
Related Keywords
ISUZU Refuelling Fuel Truck , ISUZU Refuelling Oil Truck , ISUZU Refuelling Fuel Tank Truck , ISUZU Refueling Truck , JAC Refuelling Fuel Truck , FOTON Refuelling Fuel Truck , Refuelling Fuel Tank Truck , Dongfeng Refuelling Fuel Truck
Vehicle Model DRZ5160GYYQ
Overall dimensions 9000X2465X2900mm Curb weight 7500kg
Tank dimensions 6100×2400×1400mm Tank volume 18000L
Chassis parameters
Chassis model QL1160ANFRY Chassis brand ISUZU
Overall dimensions 8785x2465x2810 Wheel base 5000mm
Front/rear wheel track 1960/1855mm Front/rear suspension 1335/2450mm
Approach/departure angle 26/11° Maximum speed 95km/h
Chassis Manufacturer QingLing Motors (Group) Co., Ltd.
Cab Configuration FVR,a row and a half cab(with sleeping berth),allowable 3 passengers,with air conditioner, central locking, electric windows, USB audio, cab can be flipped.
Color White,other color is optional
Engine Model 6HK1-TCNG40
Emission Euro 4
Type 6 cylinders, in-line, 4-stroke,Exhaust gas turbo, air-to-air inter-cooling ,diesel engine
Rated power 240hp
Displacement 7790ml
Manufacturer Isuzu Engine (Chongqing) Co., Ltd.
Tire Size 10.00-20 16PR nylon tire
Number 6+1 nos
Frame 258X85(10+4)mm
Front axle 6.3 tons
Rear axle 13.0 tons
Drive form 4X2
Suspension Multi leaf springs
Rated voltage 24V,DC
Transmissions Isuzu MLD six speed transmission,6 speed forward 1 reverse.
Steering device Power assisted steering
Steering wheel Left hand drive
Selective configuration Tire :1000R20,1100-20,1100R20
If there is a slight change in the chassis parameters above,please take the actual product as the standard

Fuel tank structure parameters
Tank dimensions 6100×2400×1400mm Tank volume 18000L
Tank material Carbon steel Tank thickness 5/6mm
Color and Logo Optional
Standard configuration Chassis, carbon steel fuel tank, sub frame,oil pump, two aluminum alloy flow valves, tool box, manhole,climbing ladder, fire extinguisher, oil hose.
Selective configuration Aluminum alloy fuel tank, flow meter, oiling machine, European standard manhole, pneumatic valve, AIP valve, anti overflow sensor plug, oil and gas recovery system,
Oil Petrol Tank truck refers to the vehicle that loading and transporting of gasoline, diesel, kerosene, lubricating oil, and other liquid fuel, etc. It is mainly composed of oil tank, oil pump, flow meter, refueling gun, filling mouth, fuel release valve, manhole covers, oil hose, chain etc. oil tank lorry
According to the different transport medium, oil Petrol Tank truck can be called, oil tanker, oil tank lorry , tanker, fuel trucks, ISUZU oil delivery tanker, ISUZU flow oil truck, ISUZU refueling vehicle, computer ISUZU refueling truck, ISUZU diesel delivery vehicles, ISUZU gasoline delivery vehicles, ISUZU oil transport vehicle, ISUZU edible oil transport vehicle, ISUZU crude oil transport vehicle, ISUZU heavy oil truck, ISUZU oil truck.
According to the brand oil tanker truck can be divided into, Yuejin oil tank lorry , Dongfeng oil tank lorry , FAW tanker truck, Foton oil tank lorry , Sinotruk Petrol Tank truck ,Auman tanker truck, North-Benz oil tank lorry ,JAC tanker truck, Shacman Petrol Tank truck , CAMC oil transport tanker truck, Isuzu tanker truck, JMC tanker truck, etc.