2 Synchronous Chip Sealer export to GHANA CIF TEMA price
Views:2041 Author:DRZ Publish Time: 2016-01-04 Origin: Dong Runze Special Vehicle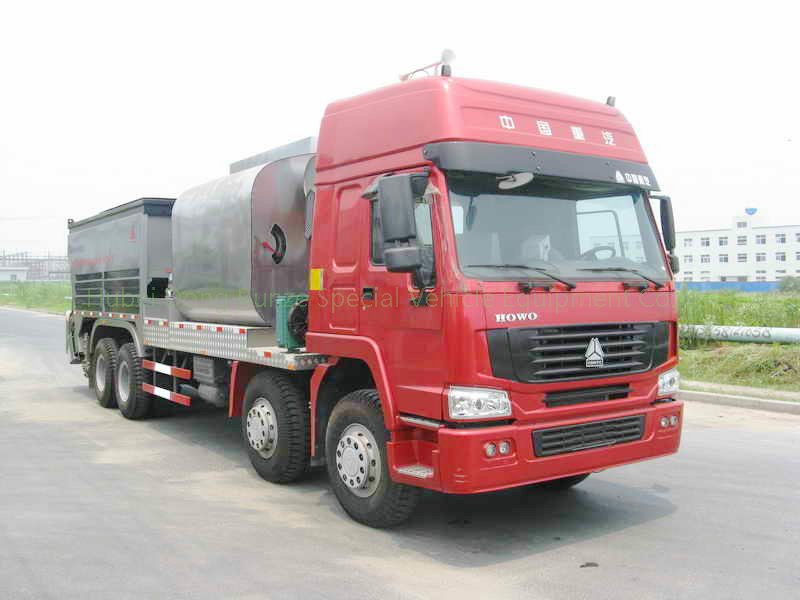 2 Synchronous Chip Sealer export to GHANA CIF TEMA price 2016-01-04
CIF FREIGHT $17400 PREMIUM $130
GROSS WEIGHT 38000kg NET WEIGHT 38000kg
| | | | | | | | |
| --- | --- | --- | --- | --- | --- | --- | --- |
| HS | Product name | Specification model | Quantity | Final destination country | Unit price | Total price | Currency |
| 87059099.9 | SYNCHRONIZE SEALER synchronous chip sealer | FOR ADVANCED ROAD CONSTRUCTION BITUMEN AND ASPHALT TANK STONE STONE SPRAY | BARREL SPRAY SYSTEM CONTROL SYSTEM OF ASPHALT AND AGGREGATES | ZHEJIANG-PASS CARD | DRZ5311TFC | 2 | GHANA | 160000 | 320000 | USD |
DRZ5311TFC synchronic chip sealer is developed under the leadership of chang'an University and the technical development sector of our company, and on the absis of adopting advanced foreign and domestic technologies.
The chip sealer is a kind of hi-tech road construction equipment at the international level. Compare with its counterparts, our chip sealers are of high automation, easy spray, easy operation, large loading capacity and great efficiency.
The main fittings are made of international brand components with novel appearance design. Our chip sealers are the ideal equipment to carry out sophisticated road construction.
² 1. synchronous chip sealer adopts famous brand chassis with reliable quality.
² 2. Asphalt tank adopts the heat preservation material of silicon acid aluminum and with good performance of heat preservation.
² 3. Asphalt tank can spray with certain quantity by fixed spray pipe or spray by hand spray gun. Asphalt pump is installed outside for convenience or for operations.
² 4. Pipeline cleaning adopts heat conducting oil and can be cleaned with high pressure air. The nozzles are not easily jammed.
² 5. The structure of chipping spread parts is compact. It is comfortable for driving and convenient for use.
Main features
² 1. we adopt the highway equipment made by the well-know manufacturer in Italy with over 70 years of history. The asphalt produced by the equipment is with high viscosity.
² 2. DRZ5311TFC intelligent synchronous chip sealer adopts the innovative low-pressure spraying technology.
² 3. The hydraulic flexible spraying pole could be controlled by remote control system.
| | |
| --- | --- |
| Model | DRZ5311TFC |
| Chassis | ZZ1317N4667C (SINO TRUCK HOWO) |
| Type | Cab-over-Engine 8×4 Rear driver |
| Engine model | WD615.95E |
| Power(hp/r/min) | 247/2200 |
| No. of the cab persons | 2 |
| Dimension (mm) | 12000×2490×3730 |
| Kurb weight(kg) | 11470 |
| Max. mass(kg) | 31000 |
| Before suspend (mm) | 1525 |
| Rear suspend (mm) | 3000 |
| Max. truck speed(km/h) | 90 |
| Fuel consumption per one hundred kilometer(L) | <19 |
| Working speed(km/h) | 1.2~6.5 |
| Asphalt tank rated capacity(L) | 8000 (6000-10000L optional) |
| Chip storehouse hopper capacity(m3) | 12 |
| Chip diameter(mm) | 5-25 |
| Spray width(m) | ≤4 |
| No. of Bitumen Nozzle | 34 |
| Spray value(L/m2) | 0.5~3.0 |
| Asphalt working permit viscosity(Cst) | ≤300 |
| Cleaning system Max. pneumatic(MPa) | 0.6 |
| Hydraulic system Max. press(MPa) | 20 |
| Cleaning System | Air |
| Bitumen Pump | Belgium Johnson |
| Variable Pump | German |
| Double Gear Pump | German Rexroth |
| Bitumen Pump Motor | Italy Sai |
| Heat Conducting Oil Pump Motor | China |
| Spraying Roller Motor | DANMARK Danfoss |
| Heat Conducting Oil Pump | China |
| Burner | Italy Riello |
| Control System | Germen Siemens |
| Speed Sensor | German Turck |
| P-T-O | DRZ |
| Monitor | CHINA |
| Temperature Control Box | JAPAN OMRON |
| Nozzle | METONG Patent |
| Generator | Japan Honda |
Max.Displacement of asphalt (L/min) 700
Basespray width (mm) 2070
Capacityof asphalt tank (L) 8000L
Max.spray width(mm) 4000
Min. rotate speed of working spray bar 30
Capacity of hopper(m3 ) 12m3
Vehicle kerb mass(kg) 31000
Asphalt spray volume 0.5-3.0
Aggregate Max. Spray width 4000
Spray bar distance from ground 250-500
Aggregate diameter 5-25