12sets 6x6 AWD refuel tanker truck -jet refuelling vechicle Export To Cuba
Views:2053 Author: Dong Runze Special Vehicle Publish Time: 2016-11-16 Origin:Hubei Dong Runze Special Vehicle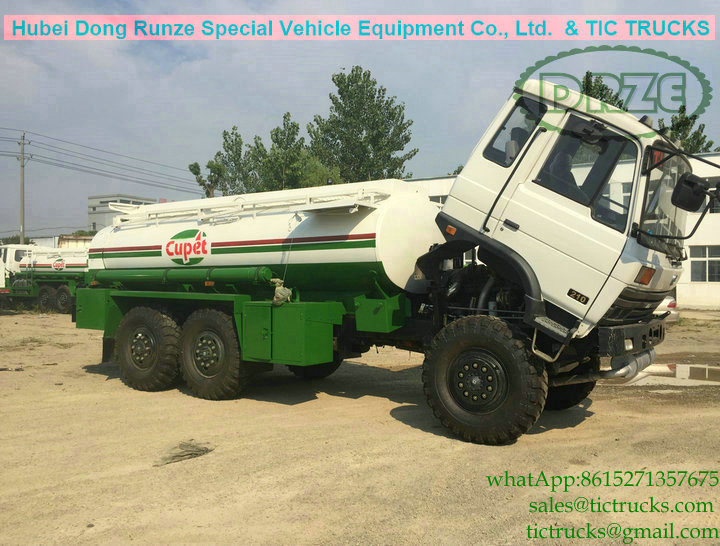 12sets 6x6 AWD refuel tanker truck -jet refuelling vechicle Export To Cuba


Cuba Petróleo Union have ordered 12 sets Dongfeng
6x6 AWD refuel tanker truck -jet refuelling vechicles from China.
FMC Measurement Solutions Smith flow meter T20

versatile
because of their modular design and arrangement flexibility. Truck meter package options are made by combining various components. These consist of a meter, counter,air eliminator/strainer, faucet, preset counter, and ticket printer. The primary functions of metering product and registering volume are performed by a Rotary Vane Positive Displacement Meter and Large Numeral Counter. Other modular features can be easily added as simple bolt on items to meet customer requirements. The air elimination feature will sense slugs of air approaching the meter and vent them. This will keep the meter packed with fluid, preventing erroneous measurement.A strainer is an integral part of the air eliminator which will remove contaminants from the line. The faucet is a valve that starts and stops flow and can be incorporated with the preset counter to automatically deliver and shut off the delivered batch (one person operation).A ticket printer will provide receipt of the registered quantity delivered.
Features
A wide range of products from gasoline to kerosene to fuel oils and lubricants can be metered

Compact, versatile design can be readily fit into nearly all installations

Low pressure drop meter results in low meter slippage and thus superior meter accuracy

Responsive air release and air check prevents metering of air on split compartment deliveries

Simple, rugged calibrator is externally adjusted with a screwdriver and easily sealed to prevent unauthorized tampering

High-capacity, low pressure drop strainer built into the air eliminator with easy accessibility for cleaning
Truck Metering Packages

Model

Size




(Inches)

Maximum Flow Rate




GPM (L/min)

Max. Working Pressure




psig (kPa)

T20

3

265 (1,000)

150 (1,000)
All Wheel Drive off road truck


10years ago Cuba have imported 105sets Vans


The Cuba Oil Union (Spanish: La Unión Cuba Petróleo) or CUPET is Cuba's largest oil company. It is owned and operated by the Cuban national government. The company is involv
ed in the extraction of petroleum deposits as well as the refining and distributing of petroleum products. In conjunction with the conglomerate Cimex, it operates a chain of filling stations selling gasoline in convertible pesos. CUPET oil refinery near Havana The extraction is based in Cuba's northern region of Havana Province (Provincia de la Habana). CUPET jointly produces oil on the island and has business agreements with, among others, the People's Republic of China, the Spanish oil company Repsol and Canada's Sherritt International. Cuba produces around 80,000 barrels per day (13,000 m3/d) of heavy crude oil. Various companies have explored for oil in Cuba over the last 15 years with the only new discoveries along the northwest heavy oil belt, an 80-mile (128 km) stretch of coast in La Habana and Matanzas provinces. Cuba consumes about 150,000 bbl/d (24,000 m3/d), of which 53,000 bbl/d (8,400 m3/d) of oil and oil products are imported from Venezuela on Petrocaribe generous financing terms under a wide-ranging cooperation accord.
All Wheel Drive off road truck

The Advantage of AWD trucks:
1.Provides increased grip and control under all road conditions
2.Gives sportier handling and traction to a broader range of trucks.
3.Works all the time
Our 6x6 AWD water tanker truck is equipped with Commins 190HP diesel engine, the tanker capacity is 9000~10,000L. It's special used in the bad road conditions.
Not only 6x6 truck, we also have the 4x4 model to meet your variety requirements.